Hello all and welcome to RAWRweekly……or RAWRnews….yea RAWRnews, I changed the name. After nearly half a year of RAWRweekly, I realised that I have almost never managed to hold a weekly schedule. But more over, 'RAWRnews' sounds less ridiculous and is less of a lie.
Normality
Now with that over with, here's what has been happening.  If you've been following this blog at all, you might remember a post from earlier this year where I was announcing a stop to all of my ambitious plans for RAWRtacular. I never really mentioned a reason for that, but much of it was due to me moving…yet again. Long story there, but in a nutshell, I've finished moving and a sense of normality has finally returned to my day-to-day life. So the good news here is: I can do more RAWRtacular stuff now. I can also have a healthy well-balanced life too…I guess that's a bonus 😀
Artfully Devious
If you have been following my Google+, or Facebook pages, you may have noticed that it's getting a lot busier there now. This is thanks to my desire to really push out regular new content, and my related frustration of the fact that I simply couldn't deliver that. But then I realised: Hey! I'm drawing stuff for most of the week, and nearly every single day, I'm doing something with one of the comics. So, taking inspiration from my peers I have started posting Pages in Progress, nearly every other day.
So now, I'm 'showing my work'. As well as filling my social media with potential interesting comic stuff, my other agenda was to finally put some content into my Deviant Art page. I started my DA page over a year ago…and it was completely empty. Until now that is. That page is now pretty active, and in the future I hope to be posting more complete works up there.
I'm Sorry in Japan!
This has been bugging me for along while now. Besides me doing Back Office and Bata Neart out of both duty and love for them, I'm Famous in Japan has been a joint-project I have been doing for the pure joy of it. But despite that, my pace at drawing that has seriously gone down a notch compared to a few months ago. Now this, was due to a few factors. Getting used to a 2 comic weekly schedule, combined with the moving and busy times at work, made it nearly impossible to draw pages for Famous Japan. There simply were not enough hours in the day. This has eaten away at me, because I have felt that I've been letting my friends at Black Snow Comics down for not producing pages at the same pace as I would for my RAWRtacular Comics.
And so, I'd like to publicly apologize to both Black Snow's reader's, and to the guys at Black Snow for all of this. However, as a means to trying to make amends, I am now making a promise, to both myself and everyone. I will produce at least one page (or material of some kind) for I'm Famous in Japan every 2 weeks until the series comes to a natural end. I really do believe that the very best of this story is yet to come. The ideas I've been having about Lone Wolf's potential Japanese rival have been exciting me a bit and once they are fleshed out, I think everyone else is going to be excited too.
And so with that, I leave you with the latest pencil work of the current I'm Famous in Japan page. This will get inked and hopefully rendered this week!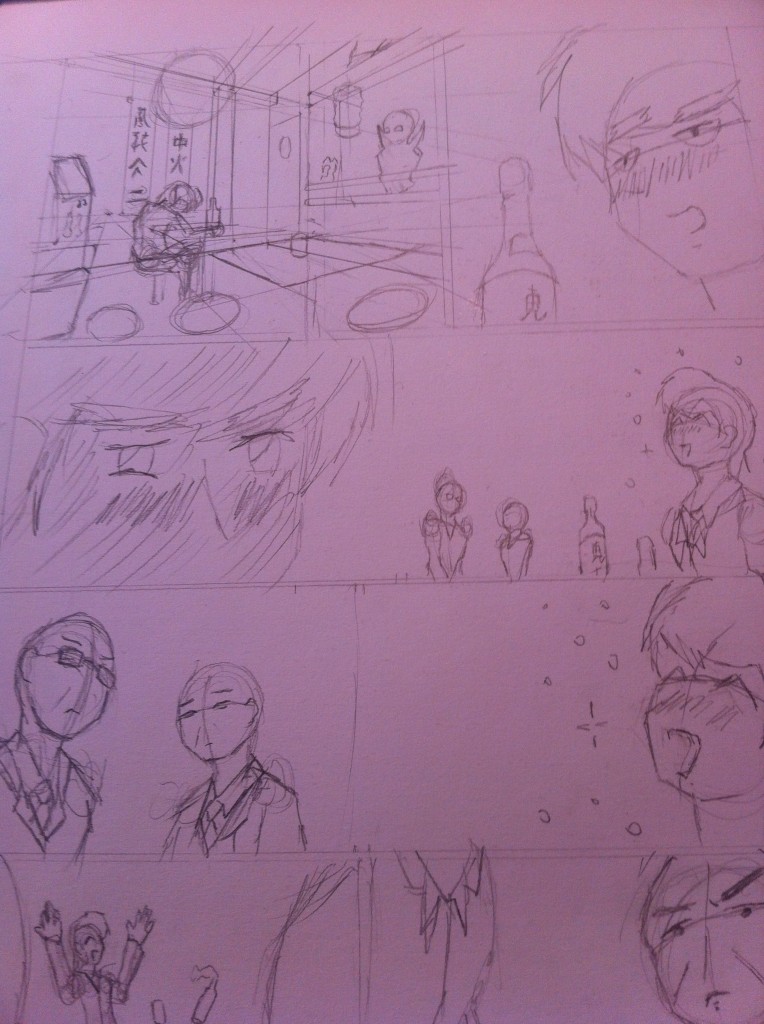 Until next time!
-RAWR