Welcome back to this week's late-as-usual RAWRweekly.
When I first started writing this article, I was going to go on about my efforts to market RAWRtacular, and how they were failing. It was a very negative piece, and I couldn't bring myself to finish it. In a nut-shell, I was disheartened that my readership hadn't increased, despite my aggressive advert campaigning.
But this week, something changed.
Up until now, my main advert had been my standard exchange banner (what I use to share links with other sites). Frankly, it's kind of lazy and doesn't say much about the comic. So, I finally decided to put some effort in, and make a funny advert that could attract readers. I took some imagery from next week's Back Office, and built the skyscraper advert you now see below.
I've always been confident that there was a market for Back Office, and frankly the thing  that prevented it from gaining a decent readership was me. I needed to put the time, effort and thought into what I was doing, and in my early adverts I just wasn't doing that. But now I am, and it's paying off big time. Just get a load of these Back Office statistics from Project Wonderful: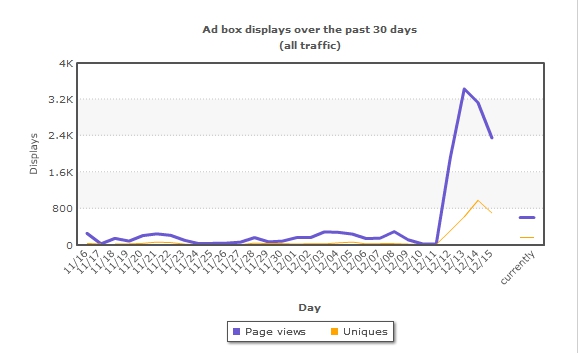 If you can read that chart, you'll see a huge jump in views from 12/11. That was the day I launched the new Back Office advert. Before, I was getting about 200-500 pages views per day on Back Office, with about 40-80 unique visitors. But now, that has jumped to an incredible 2000 – 3200 page views per day, with 700-900 unique visitors.
I'm blown away. I had always hoped that I'd get to this level of readership, and it's shocking to think that a simple advert change was all I needed. I'm going into 2012 with a new-found sense of hope for RAWRtacular. Also, a big welcome to all the new Back Office readers. I hope you'll enjoy it!
-RAWR